What are my braces going to feel like?  Are my braces going to hurt?  What foods can I eat?  These are some of the typical questions patients ask on the day of their appointment to get braces placed on their teeth. They are all very good questions and important to answer to help patients feel at ease about the changes they will experience while receiving orthodontic treatment.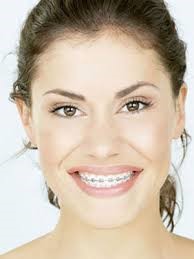 Wearing braces has become a relatively straight forward process with minimal discomfort compared to twenty years ago.  While this is true, you are still going to experience some changes that will take a little getting used to.  Your mouth is an incredibly sensitive place – you can feel the thickness of a hair in your mouth immediately and braces are much thicker than a human hair.  Just like a new pair of shoes, your new braces may initially rub and cause an irritation to your lips and cheeks until your mouth gets used to having braces.  The first few days are an adjustment period, but after the first week your braces start to become a new part of your mouth and are pretty easy to manage.
Wearing braces does require some minor modifications to the foods you eat and the liquids you drink.  The adhesive used to place braces is designed to be strong enough to withstand chewing, but not so strong that it damages your teeth when the braces are removed. This is the reason for the need to be a little bit careful about eating really hard or really sticky foods. For example, ice chewing should be avoided whether you have braces on or not. If you would like to eat an apple, it is better to cut it into slices instead of biting into the core.  Similar modifications can be made for most foods. Excessive drinking of soda – diet or not- should be avoided.
Braces will cause some slight discomfort the first few days as your teeth begin to move into alignment.  There is a cartilage ligament around the root of each tooth that allows the orthodontist to mold the teeth into a better position.  This process of molding the bone around the roots of teeth causes a slight amount of inflammation and is the source of sore teeth when braces are placed or tightened.  Over the counter medications such as ibuprofen (Motrin or Advil), acetaminophen (Tylenol) or naproxen (Alleve) are generally sufficient to make you comfortable while you go through the adjustment period with braces.  Anti-inflammatory medications such as ibuprofen or naproxen will generally be more effective than acetaminophen for tooth pain.
If you have any additional questions about what to expect with braces, please feel free to call one of our offices at Budd Orthodontics to schedule a free consultation.  The adjustment period that braces require is totally worth it for the beautiful new smile you will enjoy!