At Budd Orthodontics, you're more than just another smile. From beginning to end, Dr. Budd will see you at every visit to monitor your treatment and provide updates. We enjoy getting to know you, hearing about the details of your life, and making sure you can achieve the smile you have always dreamed of.
Budd Orthodontics offers all braces treatment, including:
Traditional metal braces
In-Ovation® self-ligating braces (metal and clear)
Clarity™ clear braces
Invisalign® clear aligners
Lingual braces
Treatment Length and Appointment Timing
Treatment times vary widely depending on the complexity of the case. Treatment can be as short as a few months to as long as a couple of years. Dr. Budd will determine the length of your treatment during your initial consultation.
During your orthodontic treatment, you'll need to visit our Phoenix or Scottsdale orthodontic offices so Dr. Budd can monitor your progress and adjust your treatment plan as needed. If you have metal, clear, or self-ligating braces, you'll visit our office every six to eight weeks. This may change to every four weeks toward the end of your treatment when we are doing smaller, "fine-tuning" adjustments.
If you choose clear aligner treatment, you will visit Budd Orthodontics every eight to ten weeks, as aligner changes can be done at home.
Types of Braces at Budd Orthodontics
Traditional Metal Braces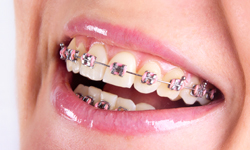 Traditional metal braces are the most common type of braces and the most popular. Patients enjoy choosing different colored ties to place on the braces to give them their own unique look. We offer any type of color you can imagine. If there is a color you want and we don't have it, we will do our best to get it.
Traditional braces are also the most cost effective type of orthodontic treatment. Patients looking to get an ideal treatment result while staying within a budget should definitely consider traditional braces compared to other treatment options.
In-Ovation Self-Ligating Braces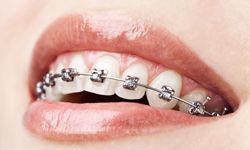 Self-ligating braces are similar to traditional braces but instead of using a colored tie to hold the wires in place, there is a door on the brace that can open and close.
The advantage of this type of brace is that you can avoid using ties that can stain over time. There is also some limited evidence to show that there is less friction in a self-ligated system, so the teeth may move faster at the beginning of treatment.
Clarity Clear (Ceramic) Braces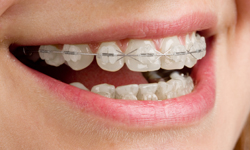 Ceramic braces are tooth colored instead of the metal color of traditional braces. Ceramic braces are popular with adult patients who are not good candidates for clear aligner treatment. They are more discreet and harder to notice in social situations while still offering all the same advantages of treatment with traditional braces in terms of the quality of the end result.
Clear braces can treat some types of cases that are not effectively treated with clear aligners. Clear braces are not removable so you don't have to bother with taking them in and out. Because they are always working, they tend to move teeth faster on average than clear aligners.
Invisalign Clear Aligners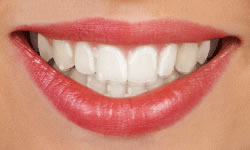 Clear aligners are a great treatment option for patients who have a bite problem that can be effectively treated with removable clear aligners. They are an aesthetic option and have the advantage of being able to be removed when you are eating or brushing and flossing.
Clear aligners are the most ideal treatment option for someone who does not have severe bite problems or who needs the flexibility of being able to remove the aligners due to work or social demands.
Lingual Braces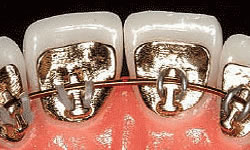 Lingual braces are hidden behind the teeth and are therefore "invisible" when you smile. Lingual braces are 100% customized to match the shape of your teeth; the metal appliances are created uniquely for you. Lingual braces are a very reasonable option for athletes, models, actors/actresses, musicians who play wind instruments, and adult professionals.