September 9th, 2022
At Budd Orthodontics, Invisalign treatment with clear aligners has become a popular orthodontic treatment in today's digital world. The treatment is based off of the information taken from a 3D scan of your teeth with an iTero digital scanner and the corresponding computer simulation of the movements of your teeth.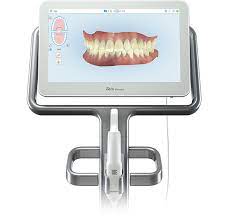 Although the software used to create this digital simulation is very accurate, it cannot account for all of the variables that make each of us unique – tongue pressure, lip pressure, swallowing patterns, and differences in how well patients wear the aligners. Sometimes when we arrive at the end of the simulated orthodontic treatment, what you see in the mouth does not match exactly what you originally saw on the computer screen. We correct this by completing what we refer to as an Invisalign "Refinement".
An Invisalign Refinement is completed by essentially repeating the process that was used the first time to create the Invisalign aligners. A new 3D scan is taken of the updated position of the teeth, and any movements that were not achieved with the first simulation are completed in the refinement aligners.  It is a little fine-tuning of your smile to make sure that we get the best possible result. This allows us to overcome the limitations of the software simulation and create a smile you will love.  A significant number of Invisalign treatments don't require any refinement, but we always have that as an available option to make sure we deliver the best possible smile. Give us a call today, and let us help you smile with confidence.