January 1st, 2021
Patients will often ask me how orthodontists can move teeth. The process is really quite simple – we stimulate teeth to move by applying a constant, gentle pressure to the teeth. This force acting on the teeth stimulates the bone around the roots of the teeth to remodel.  The remodeled bone allows the tooth to move to a new position within the jaw and voila! – your tooth is now straighter.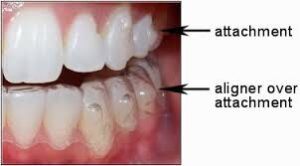 How the force is applied to the tooth is important in determining the direction and rate of movement. With Invisalign aligners, one of the challenges of moving teeth can be making the aligner apply the correct force to the tooth in the correct direction.  Invisalign aligners do not grip teeth the same way braces do because the aligners are removable and slip on and off the teeth. Aligners are not bonded to the teeth like braces. While this is convenient, it also makes it challenging to apply the correct forces to the teeth for tooth movement. One of the ways we have created a work-around for the limitations of Invisalign is by bonding attachments to the teeth.   Attachments are little tooth-colored bumps bonded to the teeth. The attachments give the aligner a "handle" to grip the tooth and move it more efficiently like conventional braces would. This allows Invisalign aligners to get closer to the quality and speed of treatment results you might achieve with conventional braces by allowing for a better grip on the teeth and therefore more difficult tooth movements.
If you are interested in improving your smile and self-confidence, please contact our office and we would be happy to discuss treatment options with you to find out what would be the best way for you to achieve a beautiful, attractive and confident smile.