August 27th, 2021
The majority of people in the world develop and grow one complete set of baby teeth and one complete set of adult teeth.  However, you might be surprised to learn that studies show up to 11% of people are born missing at least one adult tooth. This is called a congenitally missing tooth. The percentage of people with a missing tooth varies among different groups of people, but it is safe to say that you probably know someone that was born missing a tooth.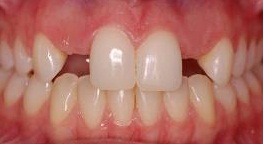 The missing tooth is often discovered in the first few visits to your dentist. If it is a wisdom tooth, it may not be discovered until later as these teeth start forming well into childhood. When you discover that one of your teeth never formed, there are few options to address it that you might consider.
First, when no adult tooth forms, the baby tooth will often remain well into adulthood because there is no adult tooth growing in to push it out. I have seen many adults well into their 40's and even 50's with baby teeth still present because the adult tooth never formed. You may be able to use this tooth for many years, although very few baby teeth will last a lifetime. When the baby tooth eventually fails, the missing adult tooth can be replaced with either a dental implant or a dental bridge.
Another option is to remove the baby tooth prior to orthodontic treatment and close the space for the missing tooth. This is called a substitution treatment and can be a great option for someone who is a good candidate.  Being a good candidate is determined by many factors including the location of the missing tooth, the bone health, a patient's age, and the health of the surrounding teeth. The main advantage of this option is that you don't have to worry about replacing the missing tooth with some form of a fake tooth in the future. If you were born missing a tooth, we can help you decide what option is the best option in your specific case.