March 28th, 2022
Among the 330 million people in the United States, there are a little over 200,000 practicing dentists according to the American Dental Association's 2021 data. However, only 6% of those dentists are orthodontists. Orthodontists are dentists who have completed a 2-3 year residency training at an accredited program in addition to the 3-4 years of normal dental training.  Of the 6% who complete their orthodontic residency training, only 54% of them are board-certified orthodontists according to 2022 data from the American Board of Orthodontics. Based on these numbers, being a board-certified orthodontist in the United States is not very common.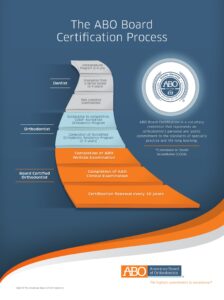 American Board of Orthodontics board-certification is a voluntary credential.  In other words, it is not required to practice orthodontics or to advertise orthodontic services like braces or Invisalign. It represents a commitment by an orthodontic specialist to the highest standards of excellence in the specialty and to life-long learning.
Dr. Budd is a board-certified orthodontist with the American Board of Orthodontics. He strongly believes in the value of the additional education and certification he has received to provide his patients with the best possible treatment outcomes in a friendly, welcoming environment. Orthodontics involves much more than just making teeth straight. It includes the complexity of facial growth, alignment of the jaws, correction of the bite, and the overall health of the teeth and supporting structures. A general dentist is ideal for providing regular oral health check-ups, comparable to your family doctor. Many dentists offer orthodontic treatment, but they do not have the same extensive education required of a board-certified orthodontist. This is an important distinction to understand when you are selecting someone to help you or your family with their orthodontic care.